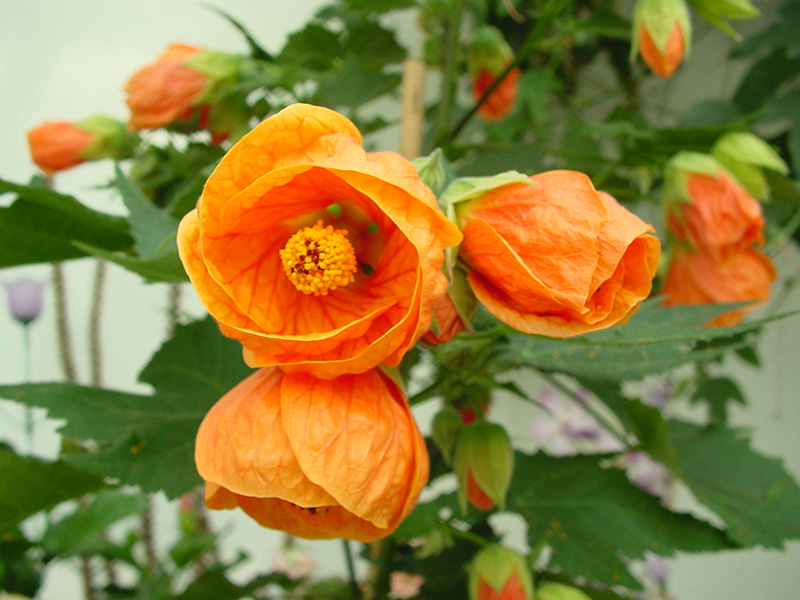 Flowering: April to September
Family: Malvaceae (Malvaceae)
Country of origin: tropics, subtropics
Another name is Abutilon Room maple.
Abutilon is an evergreen tree up to 80-120 cm. Its leaves are fuzzy and colorful klenovidno or green. There fragile stem. Abutilon growing rapidly.
These Malvo are particularly charming with its various colors: white, yellow, pink and red. A. megapotamicum corrupts beautifully manicured flower bells combined with yellow and purple glasses. The plant begins to bloom in the spring, all the way to late summer. The little tree that was in the room can become a tree, there is a velvety soft, downy leaves.
Growing Abutilon:
Place of Abutilon:
This is a tropical plant and needs a lot of sun. Prefers to sit on the balcony or terrace. It grows well in a warm room, but winter at 12-15 ° C, otherwise next year will not bloom. Plants that have wintered in a warm, can be attacked by mites or lice. They leave out Abutilon summer and in winter, store it indoors. Then it is necessary that it be provided stationary and the temperature be in the range of 12-15 degrees.